Welcome to A World Where LivingWorks, stories of science and survival. Bringing together our heads and our hearts, to build a suicide safer world. Suicide can be prevented—and everyone has a role to play. Life-saving skills can be learned by individuals, businesses, and communities everywhere. Together, we can build a safer, more hopeful world. Join us as we hear from technical experts and people with personal expertise when it comes suicide and its prevention.
Episodes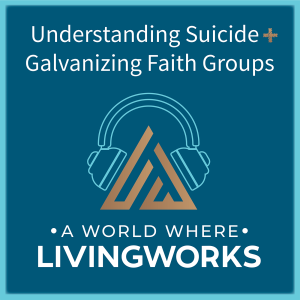 Monday Dec 14, 2020
Monday Dec 14, 2020
Faith communities play a critical role in providing connectedness, fostering resiliency, and offering hope. 
In this episode, host Kim Borrowdale talks with LivingWorks Director of Faith Community Engagement, Glen Bloomstrom about how to galvanize faith groups when it comes to suicide prevention. Chaplain Bloomstrom served three decades as an activity duty Chaplain in the United States Army, is a LivingWorks ASIST and safeTALK trainer as well as team lead for our newest online program, LivingWorks Faith. 
Subscribe to the series and check out previous episodes via the below and all of your usual podcast players:
Click here for a full transcript of this episode.